Contempo HCM provides full-featured payroll processing services in Phoenix and Tucson, Arizona. Our comprehensive payroll processing services take care of the details for you, including online access to a secure client portal, secure check printing and delivery, direct deposit when available, employee vacation, sick, and personal day accrual reports, new hire reports, and access to our responsive staff.
Dashboard
Your Dashboard is the command center that allows you to access all other parts of your Contempo Human Resources Information System.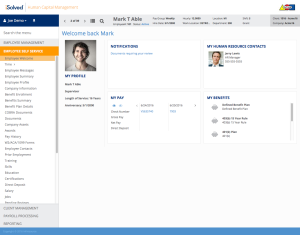 Payroll Preview
Contempo's full payroll preview feature puts you in control, alerting you to potential errors before you process. Plus, iSolved will calculate taxes with no headaches – even in multi-state situations or where you have complicated, layered local tax rates.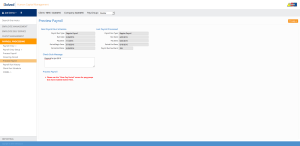 Payroll Processing Service Benefits
You can be assured of compliance with all applicable state and federal payroll requirements.
Contempo HCM will insulate and protect your business from the government agencies. No more payroll penalties nor interest!
You can rely on Contempo's automated services. We help you focus on the profit-bearing and mission critical needs of your business.
We provide our customers with this transformational HCM technology, all while providing white-glove service. Regardless of how many locations you have, or your number of employees, we process your payroll with accuracy. We handle all the reporting and filings.
4 Things to Consider When Choosing a
Payroll Services Provider
SECURITY
When working with sensitive information, security needs to be one of your main concerns.
Look for:
Secure servers
Physical backup stations
SSAE 16 Type II
Guarantee of security
INTEGRATION
Business owners also have to consider the managerial responsibilities associated with benefits administration and human resources.
Look for:
Expert advice & solutions
Workforce solution package
PAYROLL TAXES
Taxes are a reality of life. The payroll service provider that you choose should be able to process the typical state and federal level tax deductions and filings.
Look for:
Able to view deductions in a customized report
What actions are taken if mistakes are made
Capability to handle different regulations in different areas
SERVICE
Customer service is an important thing to consider when looking for a payroll service provider. Little is more frustrating than dealing with poor customer service when you have questions or an issue that needs to be resolved.
Look for:
Detailed online FAQs
Detailed online tutorials
24/7 customer service
Support via email, phone, and chat
There are many different payroll service providers available. Be sure to consider the aforementioned considerations when looking for a provider. Knowing these details will help you make a wise, well-informed decision that can help ease the burden on your business.
With Contempo, you now have one technology that can do it all. Payroll. HR. Benefits. Time.
All of your mission–critical employee data in one place. Now that's game-changing.
All in one place.
With one amazing solution.